An Interview with Virginia J. Formichi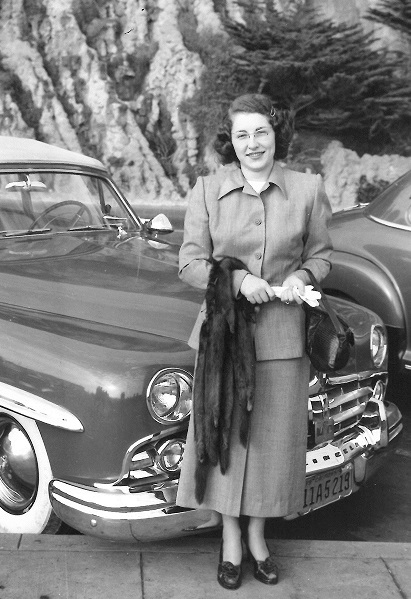 When Virginia Jeanne Formichi joined the Woman's Athletic Club of San Francisco in 1952, she had just received her JD from the University of San Francisco, the only woman in her class. "I joined," explained Virginia, "because my best friend belonged to the Club. Once a week, she and I would swim in the pool, use the sauna and then head up to Nob Hill to dine at Papagayo, the famous Mexican restaurant in the Fairmont Hotel."
Although only 27 years old at the time, Virginia had already achieved a B.A. in Sociology from Dominican College, and an MSSW from Catholic University of America. She pursued her law degree by attending evening classes while working full-time at Catholic Social Service. At the recommendation of her supervisor at Catholic Charities, she also pursued post-graduate work at UC Berkeley from 1953 to 1955 while continuing employment as a social worker in San Francisco.
In 1955, Virginia was asked to go to Rome and direct an adoption agency for children in Italy, Malta, and Lebanon. Between 1955 and 1962, the agency provided placements for almost 3000 children on a one-by-one basis with families all over the United States. One of the agency's tasks, once a child had been approved for adoption and a visa was to provide adult escorts to accompany the children to their new families. She recalls that one successful source of escorts was airline employees, especially those from TWA. She herself brought several children to their new homes in Northern California on her annual visits home. The adoptive family of one of them, a four-year-old girl, kept in touch with her regularly, eventually inviting Virginia to the girl's wedding many years later.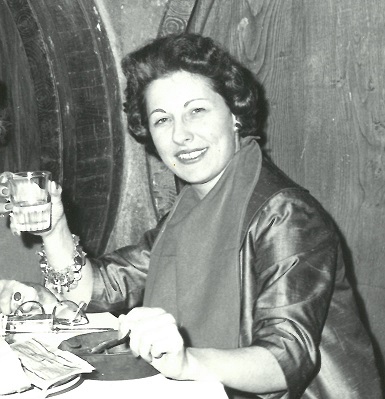 In 1962, still based in Rome, Virginia made a career change to socio-economic development with Catholic Relief Services (CRS) serving Europe, North Africa, the Middle East, and India. Among her responsibilities was making sure that U.S. foodstuffs were being efficiently distributed in the various recipient countries. Toward that end, she recalls, there was a need to help local agencies understand how to use foods with which they were not familiar. There was no such problem in Italy. They immediately converted shipments of flour into pasta which was readily usable and accepted! As a child welfare specialist, Virginia was asked by the U.N. High Commission for Refugees to conduct studies concerning unaccompanied Hungarian youth in Austria which also included a two-month stay in Yugoslavia to work at a camp for refugee children who had come across the border to escape the effects of the revolution. "There was no electricity and no running water," recalled Virginia. "Every two weeks they would send a car out to take me to Belgrade so that I could take a real bath. But it was amazing how clean I could be with just my daily pitcher of water, every morning and every evening. Talk about rationing!"
On another occasion, Virginia was included on a papal flight organized by the Holy See to survey the damage from civil strife in Jordan. As the CRS representative, her assignment was to ascertain how stored U.S. foodstuffs had fared. She accompanied a representative of the Knights of Malta, a physician, who brought some medications and supplies and was to determine future needs. Unexpectedly, the war had not terminated! She stayed in the home of a CRS colleague, sleeping on mattresses on the floor. Bombs were constantly being lobbed over the house. "The only food we had was flour and water, so we ate pancakes for every meal. After that, I never wanted to see another pancake." When they finally went out, they traveled under the protection of the papal flag which afforded them "laissez-passer." "We managed to travel the whole of Jordan. There were many religious orders taking care of children and the elderly," she explained. "It was appalling to see children on the floor of those institutions, arms off, legs off. When you see war, it is not pleasant. We made a list of supplies needed and fortunately when we got to Aqaba we located a supply that could be distributed and others were ordered."
Describing her life abroad, Virginia remembers, "I enjoyed life in Rome like you would not believe." She had friends among the ex-pat community as well as many "very interesting" Italian friends. "My spoken Italian was not great," she says, "But I had a very good reading ability." During her stay, she translated and edited a book on Italian social work. "When I was president of the European Chapter of Social Work, we sold copies to many universities as a fundraiser." Thinking about her experiences of those years, Virginia says, "If I had it to do over, I would do it all again. I had such joy in seeing those children go off to their new lives. I personally went to many of those departures. I have a picture on my desk of myself with a little baby in arms waiting at the airport to depart for the U.S. with two nuns."
Virginia's work abroad received commendations from the governments of both Italy and Malta. Pope Pius VI conferred on her the Pro Ecclesia et Pontifice Cross and she was named a Dame of the Equestrian Order of the Holy Sepulchre of Jerusalem, a papal order. She was also listed in "Who's Who in America," "Who's Who in California," and "Who's Who in Human Services Professionals."
In 1972, Virginia's life took a major turn when her mother died and she returned to San Francisco permanently to help her father with his expansive real estate business. She obtained her real estate broker's license and reconnected with friends from her earlier life. "My father was a renaissance man. He came to this country from Pisa, Italy with only a grammar school education, but he was so accomplished. He was musical and could play any instrument that had a string." Her father had acquired properties in four Bay Area counties, struggling during the Depression. Describing her mother, a native San Franciscan, Virginia said, "She didn't push me and she supported what I wanted to do. She even paid my dues at the Metropolitan Club all those years I was away!"
Virginia was asked to serve on the Mother Mary Raymond Scholarship Fund Board at her alma mater Dominican College in 1974 and continues in that work today. She was president of the Dominican Alumni Association President from 1984 to 1987. Virginia has served on the Metropolitan Club's Board of Directors and is a regular bridge player. She has seven nieces and nephews and 11 grand-nieces and grand-nephews. This year marks her 65th year as a Metropolitan Club member and in November she will celebrate her 92nd birthday. What has Virginia learned from her amazing life experiences? "You don't learn just one life lesson. You learn a lot about the generosity of individual people. They do so many good things and they go out of their way to do them. They give so abundantly. I know so many stories of people who have done such good acts, and not to their own advantage."