The Foundation's Upcoming Events
The 640 Heritage Preservation Foundation is pleased to partner with San Francisco Heritage to co-present its 2020 Lecture Series.
In honor of the ratification of women's right to vote in 1920, the theme of this year's series is Women in Preservation.  Each program will spotlight and celebrate women both past and present who have worked to preserve San Francisco's unique cultural and architectural heritage. The virtual programs will incorporate historic photos, maps, audio, and video, and be recorded for subsequent sharing and archiving.  
Due to the uncertain nature of the COVID-19 crisis, we will host an all-virtual 2020 season, made free and open to the public online. 
On August 20, LisaRuth Elliott, project manager of the Neighborhood Newspapers of San Francisco collection of over 2,300 digitized local papers, will moderate a conversation with Mary Ratcliff, longtime editor and co-owner of the San Francisco Bay View National Black Newspaper while we present a curated slideshow of historic photographs from the Bay View's extensive archive. While the country's mainstream press is slowly catching up to the issues and concerns of the Black community, the Bay View has long given a voice to Black San Franciscans since its inception in 1976. Anchored in the Bayview-Hunter's Point, it was first neighborhood newspaper to join the Legacy Business Registry [in 2017]. Ratcliff will discuss the paper's legacy of social justice work through community journalism, its continued outreach during the COVID-19 crisis, and her thoughts on carrying the legacy of the paper into the future.
We will also hear from Griffin Jones, journalist and copyeditor, archivist for the San Francisco Bay View about the work of the Bay View Archives.
This event is open to the public, but requires prior registration. You can register for the event here: Neighborhood Heroines Registration 
*This program is limited to 100 participants on Zoom. We will also be live streaming the program on SF Heritage's Facebook at www.facebook.com/SFHeritage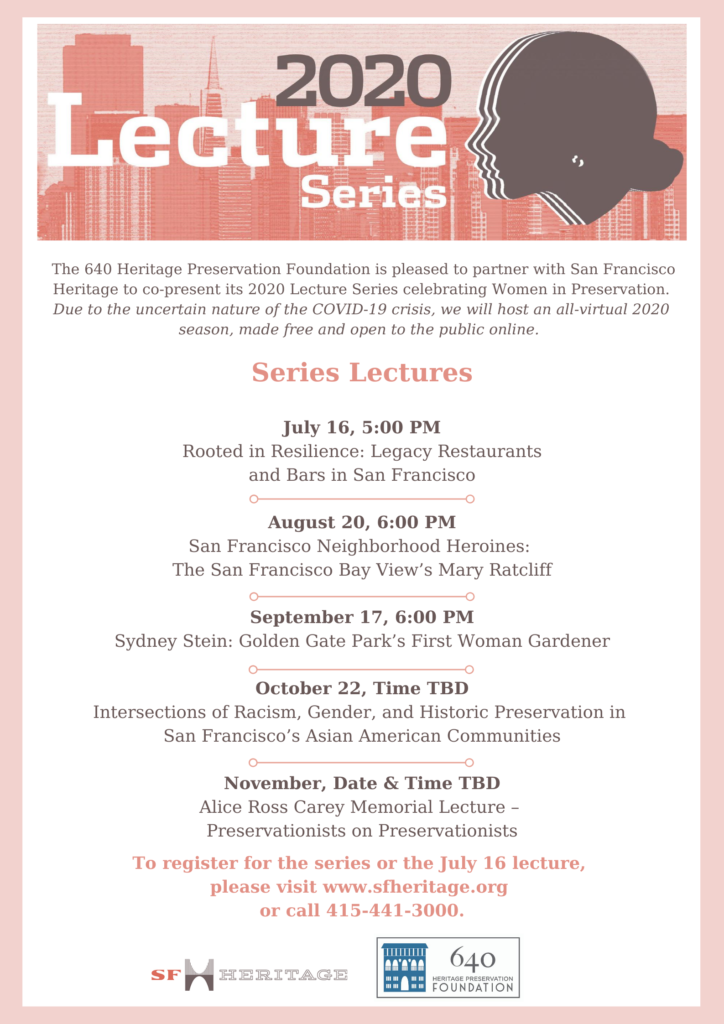 This is a virtual event that will be hosted on the Zoom platform. You will need access to a computer or other device that is capable of accessing the internet. You can watch and listen to the sessions through your mobile device, but we recommend that you pre-download the Zoom web app for Android or the Apple Store app, both of which are available for free. You may also visit these links using your desktop computer and you will be prompted to download the desktop app.