The Foundation's Upcoming Events
The 640 Heritage Preservation Foundation is pleased to partner with San Francisco Heritage to co-present its 2020 Lecture Series.
In honor of the ratification of women's right to vote in 1920, the theme of this year's series is Women in Preservation.  Each program will spotlight and celebrate women both past and present who have worked to preserve San Francisco's unique cultural and architectural heritage. The virtual programs will incorporate historic photos, maps, audio, and video, and be recorded for subsequent sharing and archiving.  
Due to the uncertain nature of the COVID-19 crisis, we will host an all-virtual 2020 season, made free and open to the public online. 
SF Heritage's 2020 Lecture Series on women in preservation concludes on November 19 with "Preservationists on Preservationists," featuring women architects and preservationists sharing photos and anecdotes about their favorite women preservationists and their contributions to the field, both past and present.
Our evening also honors Alice Ross Carey. In July 2013, the City of San Francisco lost an important preservation advocate. Alice was a champion in the preservation community and worked to preserve countless historic buildings, including the New Mission Theater and the Fairmont Hotel Tonga Room in San Francisco. She received a California Governor's Historic Preservation Awards posthumously in 2013 for her dedication and work in the field of historic preservation.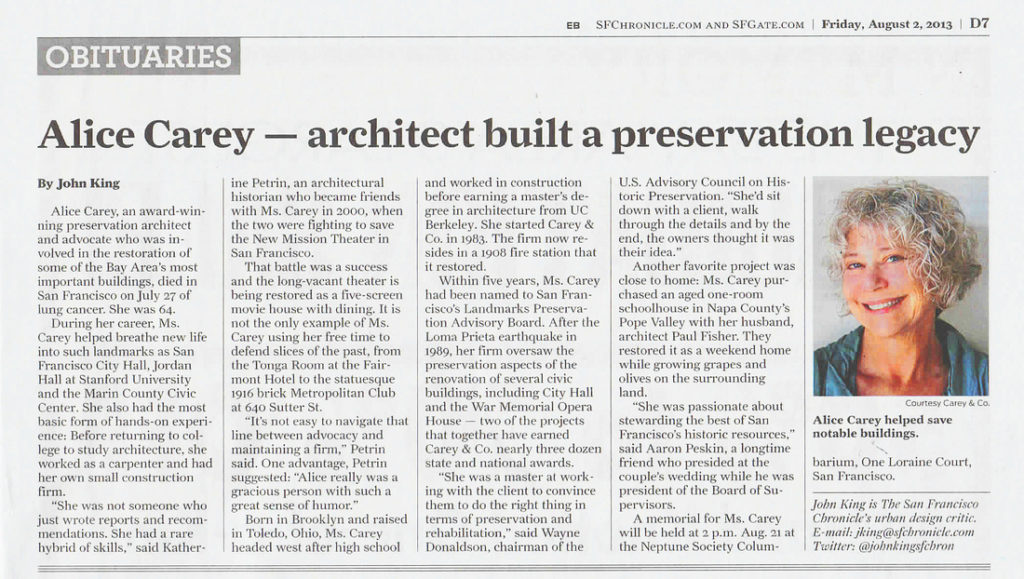 We hope you will join us for a fun and interactive program highlighting some of the important milestones and lasting legacies created by women working in the field! Our speakers:
Katherine Petrin (SF Heritage Board Member; Architectural Historian and Preservation Planner)
Shayne Watson (Historian and Preservation Planner)
Diane Matsuda (San Francisco Historic Preservation Commission)
Elisa Skaggs (SF Heritage Board Member; Associate Principal at Page & Turnbull)
These events are free, but registration is required. To register for the November 19 Alice Ross Carey Memorial Lecture, please register below or call 415.441.3000.

*This program has a limit of 100 participants on Zoom. But we will also be live-streaming the program on SF Heritage's Facebook at www.facebook.com/SFHeritage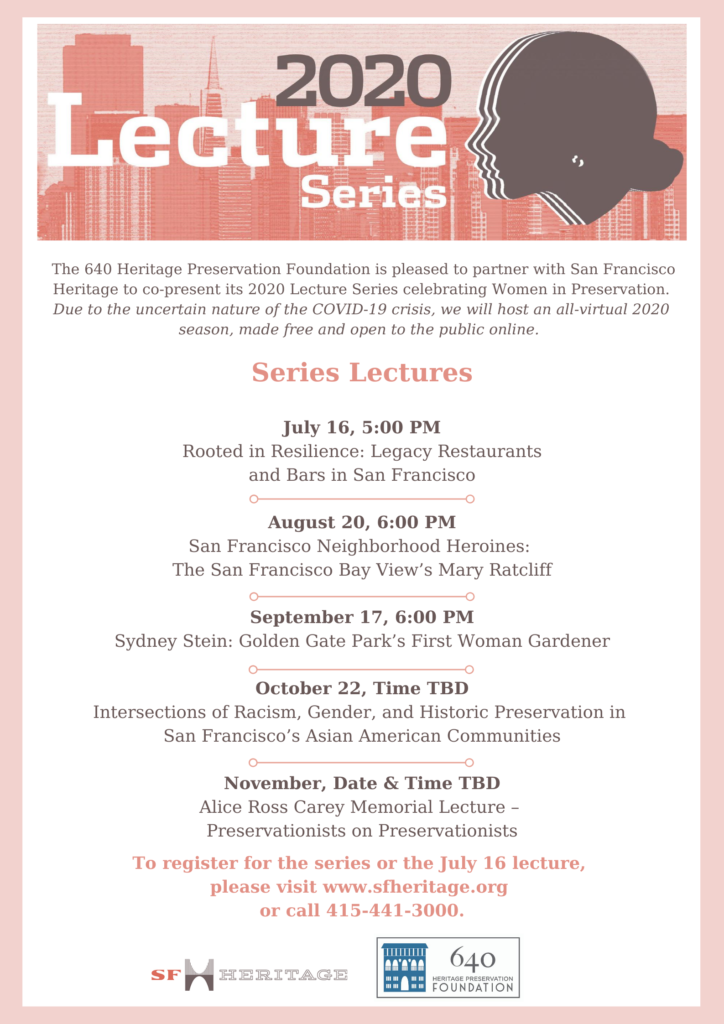 This is a virtual event that will be hosted on the Zoom platform. You will need access to a computer or other device that is capable of accessing the internet. You can watch and listen to the sessions through your mobile device, but we recommend that you pre-download the Zoom web app for Android or the Apple Store app, both of which are available for free. You may also visit these links using your desktop computer and you will be prompted to download the desktop app.