Making a charitable gift to the 640 Heritage Preservation Foundation will support the mission and work of the 640 Heritage Preservation Foundation.
General Donation
We welcome you to give in the way most convenient for you: by mail via check or credit card or through a stock or IRA transfer. The 640 Heritage Preservation Foundation (640 HPF) is a 501(c)3 non-profit organization. Tax ID#20-0608904.
Donate by mail:
640 HPF
640 Sutter Street
San Francisco, CA 94102
Tribute Gift
Donors may give a gift to the 640 Foundation in honor or in memory of a friend, family member or colleague. In this tradition of recognizing someone important in their life, a donor may give a Tribute Gift in any denomination (minimum suggested $50). When making a donation, you may specify if your gift is a Tribute gift and to whom you are making the gesture. A card will be sent in the mail to the honoree or the family member of someone you wish to memorialize.  A Tribute Gift will never break, get lost or go out of style. It symbolizes the high regard in which you hold the recipient.
Gift of a Stock Transfer:
Many donors make gifts in the form of appreciated marketable securities. This method of giving is attractive because of the substantial tax advantages to the donor.
Giving stock held by your broker is easy. Just provide the following information to your broker so they may electronically transfer ownership of stock to the Foundation:
Acct Name: 640 Heritage Preservation Foundation
Fed ID#: 20-0608904
Transfer to:

First Republic Securities Company

Account #:

Pershing LLC #33L042620

DTC#:

0443

We strongly recommend that you provide the Foundation a copy of the instructions to your broker or banker for our records and tracking purposes.
Elizabeth Pillsbury Society for Planned Giving
A gift from your estate or retirement plan to the 640 HPF is a way to support the Foundation's mission while maintaining flexibility in your use of your assets and your income. By making such a gift, you can express your support for the Foundation's mission while creating tax savings for your estate and heirs.
Bequests
A bequest is a written statement of your wish to make a charitable gift from your estate after your death. Bequests can be created by a will and may be designated in a variety of ways. A charitable bequest may be made with a gift of a specific sum of money, a percentage of the estate, or a particular asset such as stocks. The 640 HPF may be named as residual beneficiary of all or part of the estate, according to your wishes, or as a contingent beneficiary in the event the other named beneficiaries predecease you.
See the Elizabeth Pillsbury page for more information
Estate Gifts from IRA or Retirement Accounts
You may designate the 640 HPF as a beneficiary of your individual retirement account ("IRA") or retirement plan account. If you die before all your retirement assets are distributed, the remaining assets are paid to your beneficiaries. Including the Foundation among your beneficiaries permits you to support the mission in a way that avoids estate tax and the income tax that would normally be paid by non-charity beneficiaries. In most cases, you may designate the Foundation as a beneficiary without the need to modify your will.
For more information on planned giving, please contact the 640 HPF office as well as seek the advice of a qualified legal, estate and/or tax professional.
Shop for us!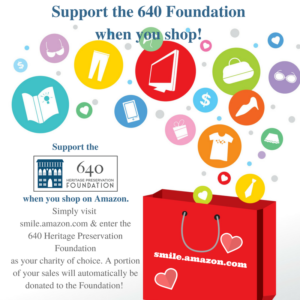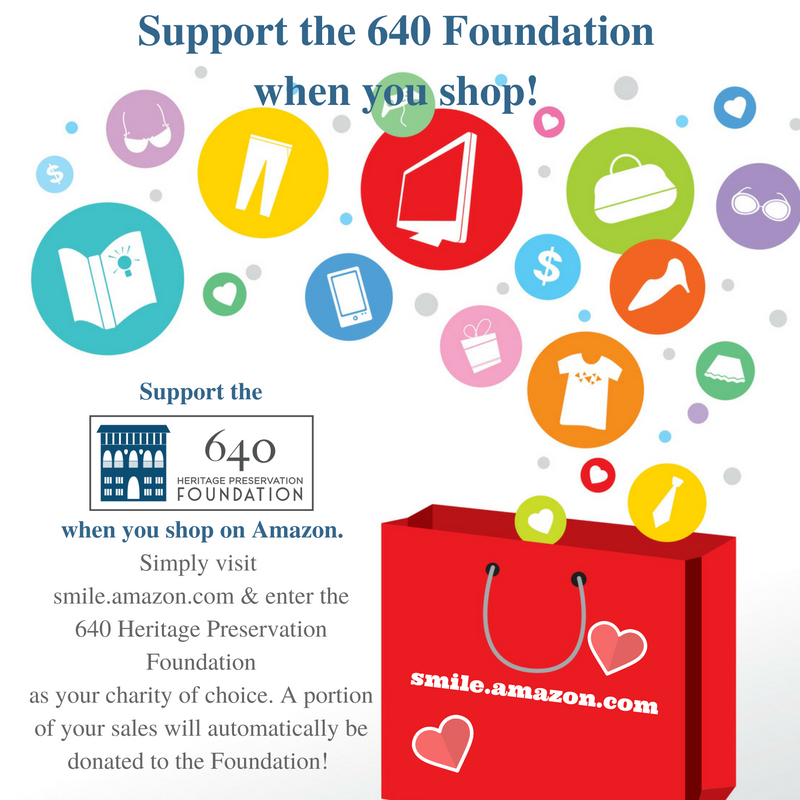 When you shop on Amazon Smile, a percentage of your total sale will be automatically donated to the 640 Foundation by Amazon. You can use your regular Amazon login and password. No fees are passed on to you. Use this dedicated link whenever you shop at Amazon and benefit the 640 Foundation. Thank you!
Contact Us:
The 640 Heritage Preservation Foundation appreciates your interest and consideration of support. Please contact us with any questions you may have regarding how to give. You may contact our staff or Board with any inquiries.
You can view the Foundation's IRS 990 forms from 2019, 2018, 2017, and 2016 as well as completed financial reviews from 2015 and 2014  online or in the 640 Heritage Preservation Foundation office located at 640 Sutter Street. The Foundation's Tax I.D. number is 20-0608904.