An Interview with Roberta Neustadter
By Carol Ann Rogers
In October of last year, Roberta Neustadter celebrated her 100th birthday. A few years earlier, a friend asked Roberta to what she owed her longevity. "I told him that no one in my family had lived very long. The only thing I can think is that I liked my friends and kept up with my friends and kept going – just kept going. That's the main thing."
Her first circle of friends lived in neighboring farms outside Thorntown, Indiana. "The six of us were best pals. We grew up together . . . If we had something secret to share; we used the phone to call six longs and a short. That sent the party line message – 'Meet at the meeting place' – and we'd head out and share whatever our secret was." Years later, in 1980, Roberta visited Thorntown on the occasion of its sesquicentennial and reconnected with those early friends. "We went to one of their houses in a nearby small town for dinner. All the husbands sat around talking, and all of us old pals visited."
Years later, living in San Francisco, Roberta was part of another group of 15 friends whom one of their husbands dubbed The Remarkables. "He said, 'I think you girls are remarkable,' so that's what we called ourselves from then on. We'd . . . have lunch at someone's house, or have a picnic together, or go on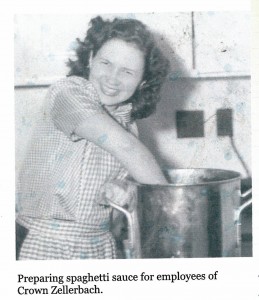 an outing."
Roberta joined the Metropolitan Club in 1971. Her mother-in-law was a member and regular swimmer. Roberta thought she'd use the pool too but admits, "I never did swim." Her good friend Adelma LoPrest who had joined the Club about the same time encouraged Roberta to swim and offered to share her locker. Roberta put her robe in the locker, but never used it.
She did, however, enjoy her friendships at the Club. She served on committees and the Board. After meetings, she remembers fondly, "we used to go into the bar for drinks before going into lunch." Martinis and old-fashioneds were the popular cocktails in those days. Asked recently what a perfect day at the Club would include for her, she promptly responded, "I'd go down and meet some friends and have lunch."
Two other women's organizations hold a special place for Roberta. At the Philanthropic Educational Organization (PEO) she served as president of her chapter five different times. "PEO was my favorite club for a long time. All the women had so much in common. Love and friendship were really important to us." Roberta also became a member of San Francisco's Century Club where she participated in its many plays.
Roberta's 100 years have had their share of sadness and hardship, including the death of her older sister, Honor, at only 25. She recalls that life on the farm was hard, particularly for women. She describes herself as having been a tomboy, preferring to work with her father in the fields, or go fishing, rather than helping her mother, who was an excellent cook and seamstress.
Roberta attended Ball State University in Muncie where she took a two year course to be a teacher, finishing in 1933 at age 19. She then taught in a two-room country schoolhouse near Thorntown. "I liked teaching, but did not like the parents who always wanted to tell you what to do." She met her first husband Arch Monson when his family moved from Indianapolis back to their family farm outside Thorntown. Arch had moved to California where he had a theater job. Eventually, Roberta took the Greyhound bus to California and they were married in Carson City. Although that marriage ended in divorce, Roberta remains close to her former husband's four nieces. On Valentine's Day, 1953, Roberta married Newton Neustadter. Newt was a hunter, fisherman and the owner of multiple boats, two of which were named after her.
Roberta's devotion and generosity to CPMC are well chronicled. She began volunteering in the emergency room of the old Cooper Medical College that became Presbyterian Hospital and eventually CPMC. She was instrumental in establishing the Institute of Health and Healing and was honored in 2005 with its "Compassionate Caring Award."
Roberta sums up her own hundred years: "Farm life and small town Indiana, school teaching and office work, volunteer work and donations. Fun and sorrow, love and loss; a long life made sweet by paying attention to what is good."
This article is based on an interview with Roberta, as well as on the privately published book, Red's Story: A Memoir as told by Roberta E.M. Neustadter to Sylvia E. Halloran