Cold War Scholar and Passionate Philanthropist
By Marcia Schneider
Longtime Metropolitan Club member Katalin (Kati) Kádár Lynn is an author, historian, scholar, Cold War specialist and publisher. She is a strong believer in giving back to the community, and is passionate about her work mentoring talented young academic writers around the world.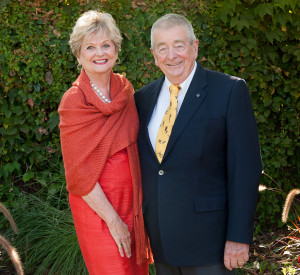 Born in Budapest, Hungary, Kati lived for several early years in Germany before emigrating with her family to the U.S. in 1950. As refugees, her parents did not have extensive resources, but from an early age, they encouraged her to read, and to enjoy opera, ballet and other cultural institutions.
Kati pursued both her undergraduate and graduate education in the U.S., receiving her Master of Liberal Arts from Washington University in St. Louis. Following a successful career as a retail executive with Saks Fifth Avenue and Bloomingdale's in New York, where she was director of their management training program, she returned to her scholarly pursuits. She received her Ph.D. in 2005, graduating cum laude from the University of Budapest.
"Writers are the rock stars in Hungary," Kati said, in a recent interview at the Metropolitan Club, noting that there is a bookstore in nearly every block in the capitol city.
She honed her own writing skills while researching her doctoral thesis on Tibor Eckhardt, a Hungarian political leader who immigrated to the U.S. upon the rise of Nazi power in Germany. Her work, Tibor Eckhardt: His American Years 1941 – 1972, was published in both the U.S. and Hungary. She edited several of his works, as well as a collection of the works of celebrated photographer Margaret Bourke-White. Recently, she edited a collection of essays of various scholars, The Inauguration of Organized Political Warfare: Cold War Organizations and the National Committee for a Free Europe.
Drawing on her own marketing skills, Kati advises young scholars on the need for branding. Publishing one's work is essential in the academic field, and Kati stresses the need to publish journal articles and fragments, accept speaking engagements and develop a following in order to attract a book publisher. Social media and e-books are revolutionizing the world of publishing, and it is essential to keep up with current trends. In 2007 Kati and her husband established a foundation based in Hungary to support graduate students in their efforts to publish and publicize their research and writing.
Kati enjoys entertaining at the Metropolitan Club, where she hosts board meetings, events, holiday celebrations and more, as well as the athletic facilities and intellectual company. She expressed her admiration for the women who had the foresight to build such a facility with so many amenities, including dining, athletics and guest rooms. She is a former chair of the Reciprocal Clubs Committee. Among her many board activities, she served on the San Francisco Ballet Auxiliary Board for over 16 years, and chaired the opening night gala in 1996 and served as the co-chair of the 75th Anniversary New Works Festival Gala in 2008. She and her husband Douglas Lynn, a retired real estate developer, live in St. Helena, and travel frequently to Budapest.